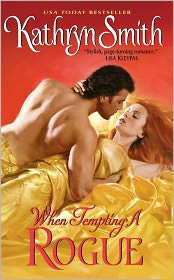 5 days from now When Tempting a Rogue hits the shelves. I'm always excited for release day, but this is the first time that I've been sad about it as well. When Tempting a Rogue is my last book as Kathryn Smith. For now, anyway.
While I'm really excited about the new things coming my way and the new books I'm writing under new names (Kady Cross, Kate Cross, Kate Locke), I've been Kathryn Smith my entire life. I've written as Kathryn Smith since I sold to Avon in 1999.
What it comes down to is that I feel like I'm giving up a bit of myself. I suppose it's normal, and change always brings anxiety with it — even if it's really good change. I have that incredible hopeful feeling about each of these new ventures and there's endless possibilities ahead.
Yup, it's terrifying. 🙂
So, I want to hear about big changes you've made. Big decisions that have led to wonderful — or maybe not so wonderful things. More importantly, I want to know if the risk was worth it. Oh, and don't forget to pick up When Tempting a Rogue on your next trip to the bookstore. It might be a collector's item one day. 🙂
---