It's hard to believe March is here already. March is a big month for the Jaunties. Robyn DeHart has a new book out. If you saw her interview with Jaunty P. Quills yesterday, you're sure to want to get your copy right away.
Our blog is also being featured at the end of the month at Ashley March's March Madness, a celebration of historical romance readers and writers. Be sure to check out March Madness on these dates…
Monday, March 7: Robyn DeHart blogs
Monday, March 28: Shana Galen blogs and the Jaunties are featured
Robyn and Shana will be giving away copies of their books.
In addition to the recent releases, upcoming books, and ARCs given away by historical romance authors each day, historical romance readers will also have a chance at winning:
1. A bundle of 5 historical romances every Sunday.
2. 8 Victorian lady postcards
3. 8 "Do you know the way to Pemberley?" postcards
4. 8 "Well behaved women rarely make history" medieval postcards
5. A "Romance Reader & Proud of It" tote bag
6. Two secret prizes (to be announced during the month)
7. A Grand Prize package of historical romance books and a Victorian-styled lovebirds necklace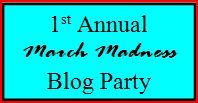 Aspiring historical romance writers also have a couple of things to be excited about:
1. Kris Kennedy's agent, Barbara Poelle of the Irene Goodman Literary Agency, has generously agreed to give away a partial critique to the writer she believes has the best 3-sentence written pitch. One of Kris Kennedy's books will also be given away, as an example of the type of work Barbara loves.
2. Ashley March will provide a full critique of another aspiring historical writer's completed novel.
There's more, so be sure to check in for all the rules.
The Jaunties have some fun contests coming too, so don't forget to check in with us every day. Tomorrow our own Catherine Kean is blogging.