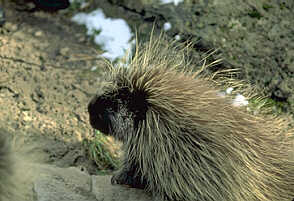 As a special treat today, the JQ's resident mascot, Jaunty P. Quills, porcupine extraordinaire, will be conducting an in-depth interview with Avon author Kerrelyn Sparks. So pull up a chair and find out all there is to know about this lovely and talented lady who knows her way around a vampire–and a good vegetable.
Jaunty: Hi, Kerrelyn! Thanks for blogging with us today. I guess the first thing the Jaunty Quills want to know is what's your favorite vegetable?
Kerrelyn: Hmm, vegetables. Long, hard vegetables. Carrots? No, something thicker. Zucchini or cucumbers. Yeah, that's it. And don't forget the lubrication—I mean the olive oil. Whew, is it hot in here? Pardon me while I go turn down the air conditioning.
Jaunty: Okay, actually only Anne wanted to know that, but now that that crucial question is out of the way, we can talk about your books!
Kerrelyn: Yeah, Anne, I know you like them raw!
Jaunty: Your new release is VAMPS IN THE CITY. Tell us a bit about it.
Kerrelyn: Okay. First off, the title got changed to VAMPS AND THE CITY. Big change, but you'll be glad to know that I recovered from it like a champ.
The city is New York, and the Vamps are mostly the ex-harem of Roman Draganesti (the hero in How to Marry a Millionaire Vampire). The lady vamps need a new master, preferably a rich one, since they're not accustomed to doing anything but wearing out-of-style clothes and sipping hot Chocolood (Vampire Fusion Cuisine drink of chocolate and blood). Where can they find a master who will take care of them?
They'll find him on a vampire reality show! The Digital Vampire Network hosts its first reality show, The Sexiest Man on Earth. The winner will receive millions of dollars and the harem. Darcy Newhart, the heroine of this crazy story, will be the show's director. Is she a vampire or not? Only her hairdresser knows for sure. She selects 15 gorgeous hunks to vie for the title of Sexiest Man on Earth. Just to make the show more interesting, she plans to make male vampires compete with male mortals.
Meanwhile, the CIA Stake-Out team decides to go undercover in the vampire world. Two men from the team try out for the reality show and get on. One in particular matches Darcy's ideal of the Sexiest Man on Earth. What's the harm in a little offstage romance? But when the sparks start flying, the secrets pop out. How can their love ever survive? Who will win the Sexiest Man on Earth? And what will he do with a harem of vampire women? See VAMPS AND THE CITY for all the answers and a rollicking good time.
Jaunty: How did you come up with the idea for such original books about vampires? Shana heard a rumor you were on drugs…
Kerrelyn: Drugs! Ha! I categorically deny that! Except maybe once. Or twice. Yes, I admit it. I was zonked out of my mind on Nyquil. In my defense, I can only say I really did have a bad case of the flu. And I don't drink (or do drugs), so the Nyquil really did a number on my head. I was already flirting with the idea of doing a contemporary vampire comedy, but since I had written historicals before, I wasn't sure I could successfully pull off a contemporary. My insecurity had made me too afraid to write, but the Nyquil removed those inhibitions. I sat down and wrote some crazy stuff that had me laughing—it was so much fun!!
I sent three chapters to my agent, who loved it and sent it out to a bunch of publishers. Within a week, we had several offers!! I was so excited when we sold to Avon, but then reality hit. Horror of horrors! I was healthy! How could I finish the book without the aid of Nyquil? You'll be glad to know that I did, indeed, finish that book and others without resorting to any drugs whatsoever. Well, caffeine, maybe…
Jaunty: You also published an historical novel, FOR LOVE OR COUNTRY. Any plans to go back to historicals? Do you find writing historicals very different from writing contemporaries?
Kerrelyn: I would love to write historicals, too, but right now, I barely have time to keep up with all these vampires. I still read a bunch of historicals, and I love them—especially those written by the Jaunty Quills!! I have great admiration for historical authors. Having written both, I can tell you that writing historicals is harder. Every word that comes out of a character's mouth must be suited to the time period.
I'm finding that with the vampires, I have the best of both worlds. Some of the vamps are hundreds of years old and haven't quite kept up with the flow of time. This was really evident with the harem. I had two medieval ladies, a Regency lady, a Southern Belle from the Civil War period, and a woman from WWII—all stuck in their respective time periods. It was a lot of fun!!
Jaunty: One thing that always stands out about your work is your sense of humor. Is writing funny something that comes naturally or do you work at it?
Kerrelyn: Both. Sometimes, the humor comes easily. Sometimes, it takes days to come up with the perfect line. But the reader doesn't know that, so I have the lovely benefit of appearing more clever than I really am. I am a mixture of silliness and determination—otherwise, the books would not get finished. Thank God I can make money doing this.
Jaunty: Here's a question you probably get asked a lot, but how did you become a writer? Did you always want to be one or did you have other ambitions growing up?
Kerrelyn: I've always loved to read. And for years, I thought that being a writer would be the absolute coolest job in the world. I just didn't think I could do it. So, I spent years doing other things that I loved—like being a mom and teaching history and French. But always, in the back of my mind, was that secret wish that I could do the impossible. I was in my 40s when I realized that I seemed to be getting older at a much faster pace each year, and if I didn't try the impossible, I would regret it. So, I tried. And I got published! And then, I slapped myself in the forehead and said, "Why didn't I try this earlier?" But I wasn't ready for it yet. We're all on our own road going the speed that's right for us. All I can do is keep moving forward and try to enjoy the journey without criticizing myself too much along the way.
Jaunty: Finally, what can we look forward to from Kerrelyn Sparks?
Kerrelyn: More books, more laughs, more wrinkles, but hopefully, not another fifty pounds. Writing is so hard—why doesn't it burn more calories? Oh, cruel world.
Seriously, which is hard for me, there are more vampire books coming soon. After reading the first book, How to Marry a Millionaire Vampire, and the second book, Vamps and the City, you will hopefully be enthralled and completely under my power. Then, in November, you will eagerly rush out to buy an anthology titled Sugarplums and Scandal. (Only those deeply enthralled would be able to purchase a book with a title like that!) In that anthology, you will find a novella titled "A Very Vampy Christmas." It's Maggie's story.
Sometime in 2007, the third full-length book will appear. It's Angus MacKay's story and has the working title of Vampires in Kilts. That title will most likely change, so please check my website at www.kerrelynsparks.com to learn what the new title turns out to be. Here are a few of the wonderful suggestions I made—Vampires on Viagra, The Undead in my Bed, Vampires: Boxers or Briefs?, Under the Vampire's Kilt, or A Hard Vamp is Good to Find. I'm sure my editor will be pleased with those choices!!
My thanks to all the wonderfully talented Jaunty Quills for allowing me to visit for the day. And my thanks to all the lovely readers out there for supporting romance! Be bold, be brave, be batty!
THANKS, KERRELYN! All you Jaunties out there, for more info and to see a picture of the lovely and talented Kerrelyn Sparks (sorry, no zucchinis or cucumbers in evidence) visit her website at http://www.kerrelynsparks.com/
---